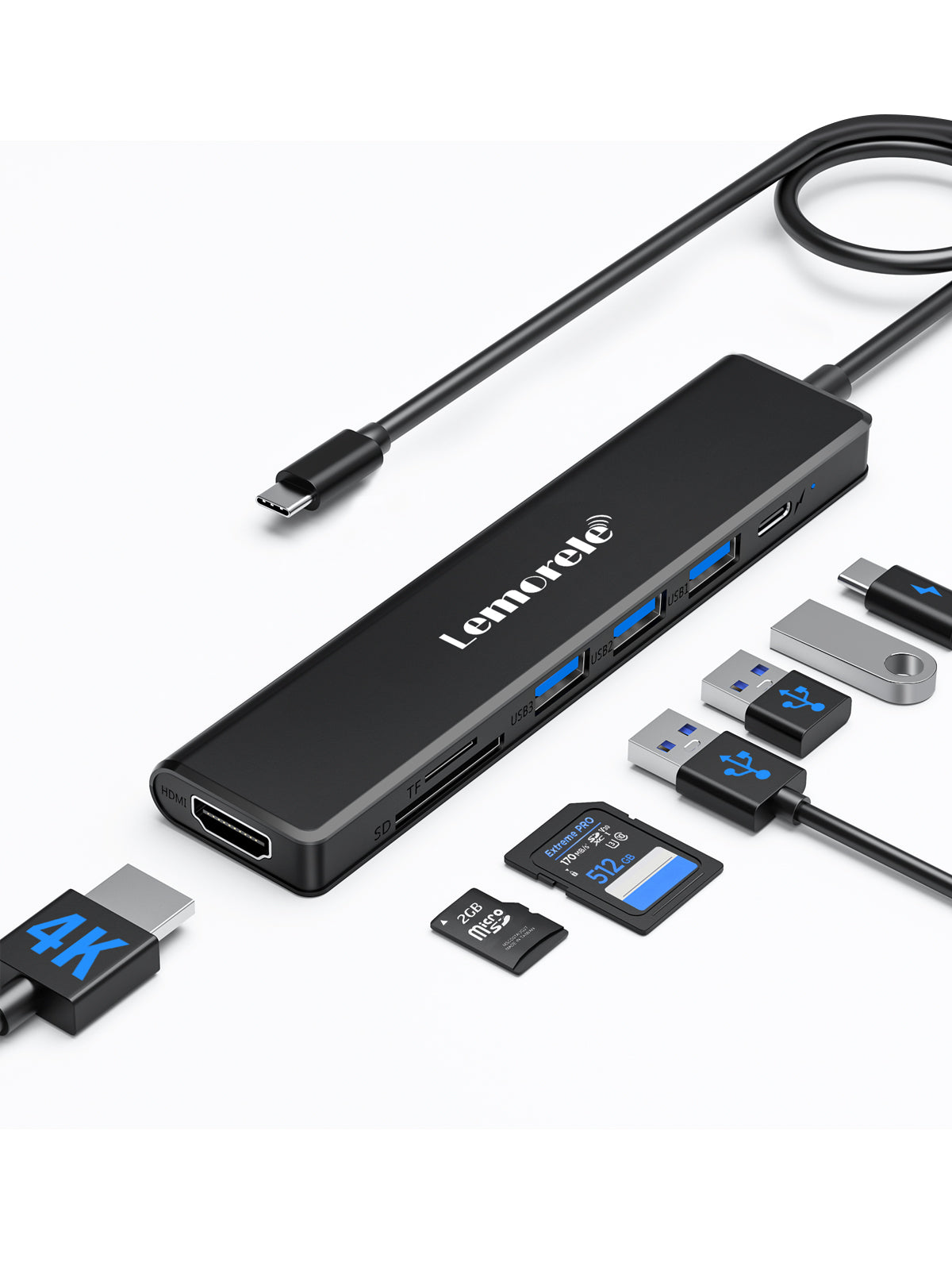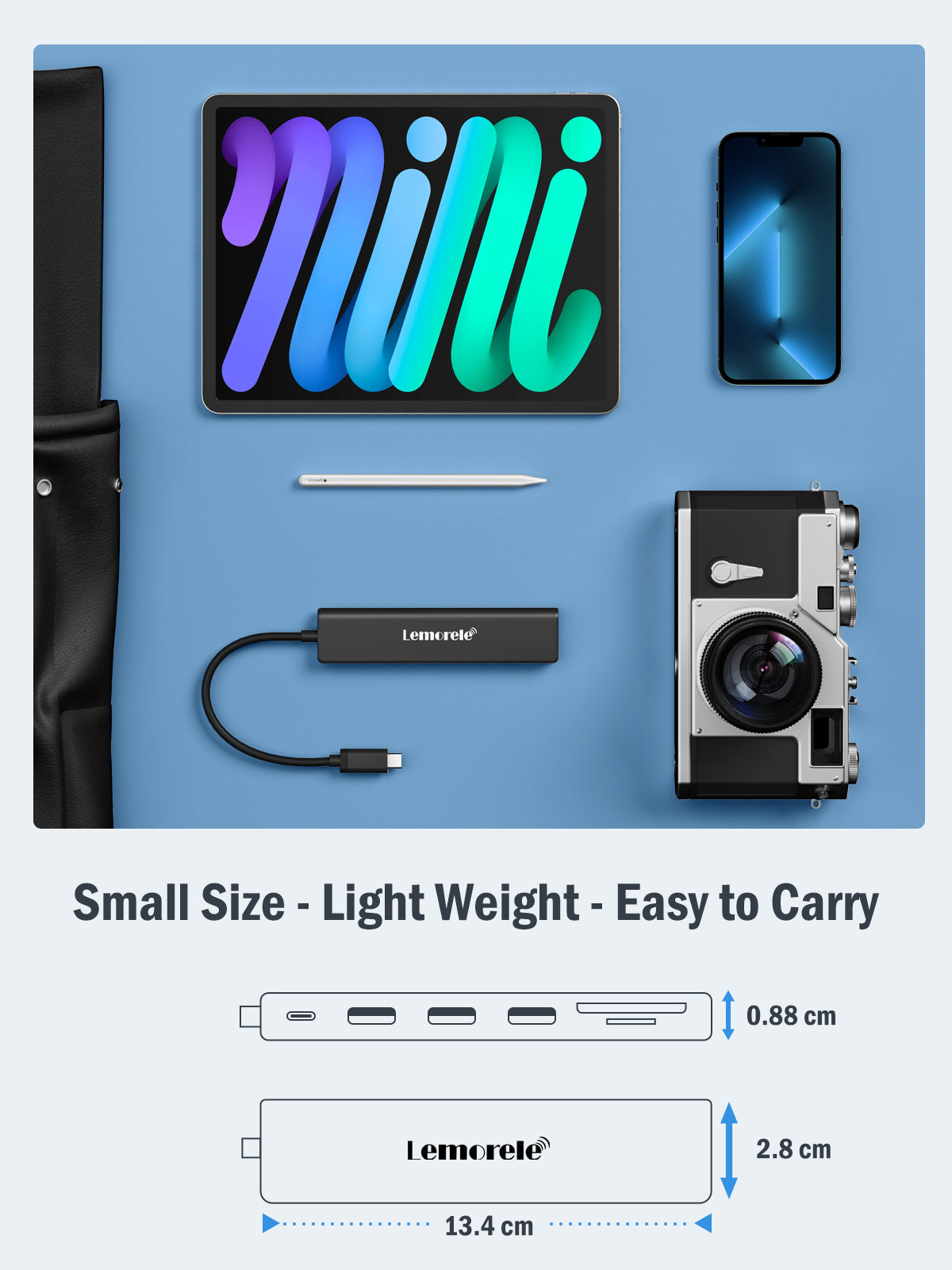 Lemorele USB C Hub 7 in 1 【#TC90】
Lemorele 7-IN-1 USB C Hub, It is not only add fun to your work and life, but also the best choice as gifts for family and friends.
4K UHD HDMI Output: Plug and Play! Mirror or extend your screen with this USB C hub HDMI port and directly stream 4K@30Hz UHD or Full HD 1080p@ 60Hz video to HDTV, monitor or projector!
100W USB C PD Charging Port: USB C charging port supports max up to 100W power delivery. No worry out of power while gaming. Note: The specific power depends on the rated power of the device.
3 USB 3.0 Port: Max data transmission up to 5Gbps, transfer and backup your files in seconds. After connecting to the laptop, other devices can be charged.
SD/TF Card Reader: Built-in SD and micro SD slots for easy access to files from universal SD and micro SD memory cards. Support SDHC (Capacity up to 32GB), SDXC (Capacity up to 2TB) and MMC.
Lemorele USB C Adapter Docking Station Compatible With Computer And Model (Not from a complete list) :
Compatible with

Apple

: Macbook 12 inch, Macbook Pro 2016/2017/2018/2019/M1, Macbook Air 2018/2019/2020/M1, iPad Pro 2018/2020
Compatible with

Asus

: Ling Yao 3, Ling Yao 3PRO, Ling Yao X series, ROG series, U4100ROG, U5100UQ series
Compatible with

Dell

: XPS13, XPS15, G3 / G5 / G7 series, Lingyue 5000/7000
Compatible with

Lenovo

: Saviour Y7000/Y7000P/Y9000K, YOGA6 Pro, ThinkPad X1 Carbon/Yoga
Compatible with

Microsoft

: Surface Book2, Surface Go
Compatible with

HP

: EliteBook Folio G1, EliteBook 1050 G1, Shadow Elf 4 Pro
Compatible with

Google

: Google PixelBook
Compatible with

Xiaomi

:Xiaomi Air 12.5/13.3 inch, Xiaomi Pro 15
Compatible with

Honor

: MagicBook Pro, MagicBook
Compatible with

Razer

: Spirit Blade/Spirit Blade Stealth Edition
Compatible With Mobile Phones (Not from a complete list) :
Compatible with

Huawei

:P40,P40 Pro,Mate 30,Mate30 Pro,Mate10, Mate10 Pro,P20,P20 Pro,Mate20,Mate 20 Pro,Mate 20 X, Honor V20/Note10
Compatible with

Samsung

: S8 / S8 +, S9 / S9 +, S10 / S10 +, Note9
Compatible with

OPPO

: R17 Pro
PD Charging

PD optimizes energy management across multiple peripheral devices so that each device only consumes the energy required for the current process.

Simultaneous readout

With this USB C Surface Adapter, you can unload your SD/TF (microSD) memory cards and transfer beautiful holiday photos or videos very quickly from camera to laptop. How fast? - At 104MB/s, 100 photos are only transferred within 10 seconds.

Lightweight & Easy to Carry

This USB C hub adapter is only 5.3*1.14*0.35in, 0.13lb. It is very lightweight, easily put in a pocket or in a backpack, and you can't feel its weight, suitable for travel and daily office business trips.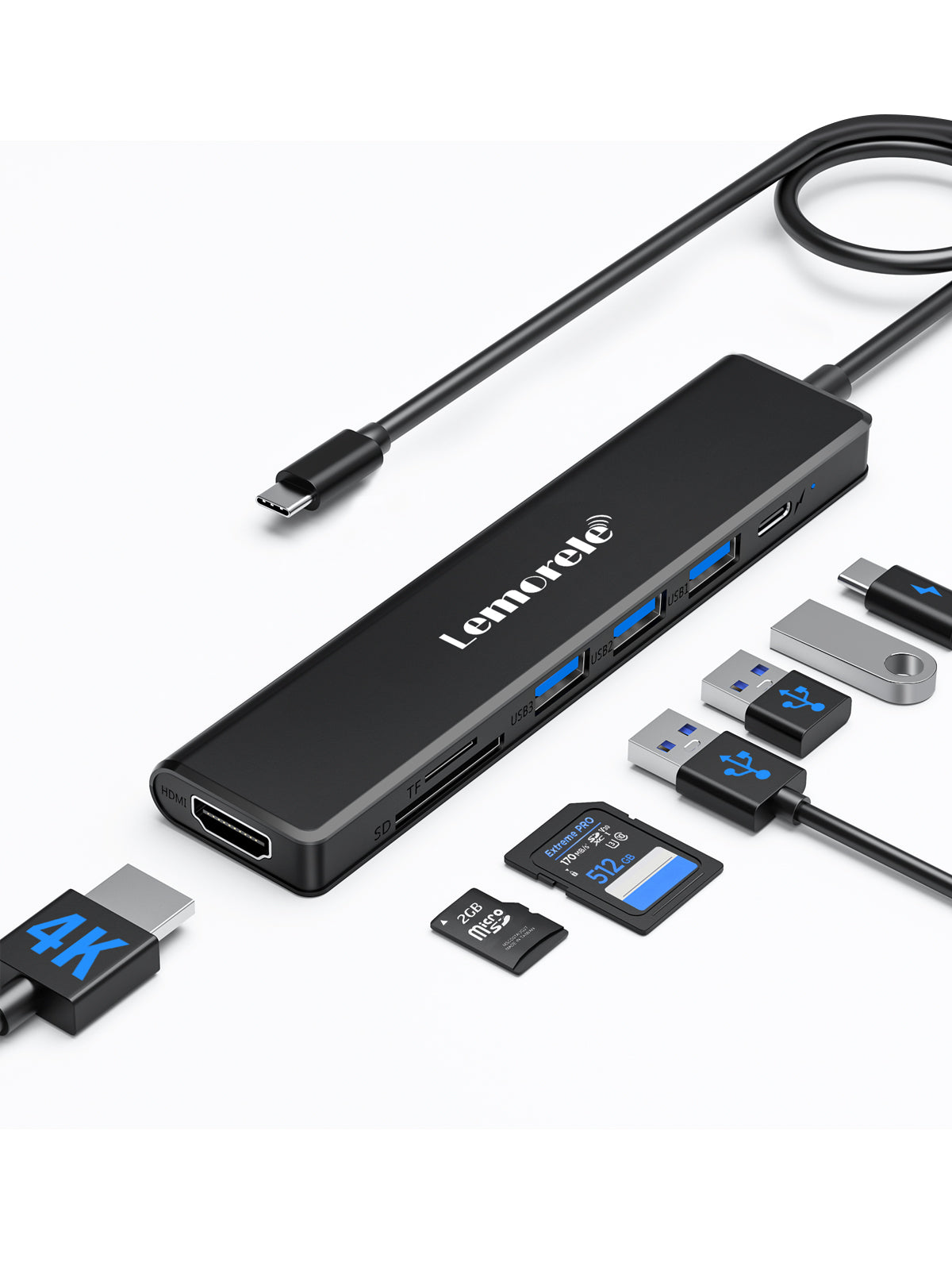 This product has no reviews yet.