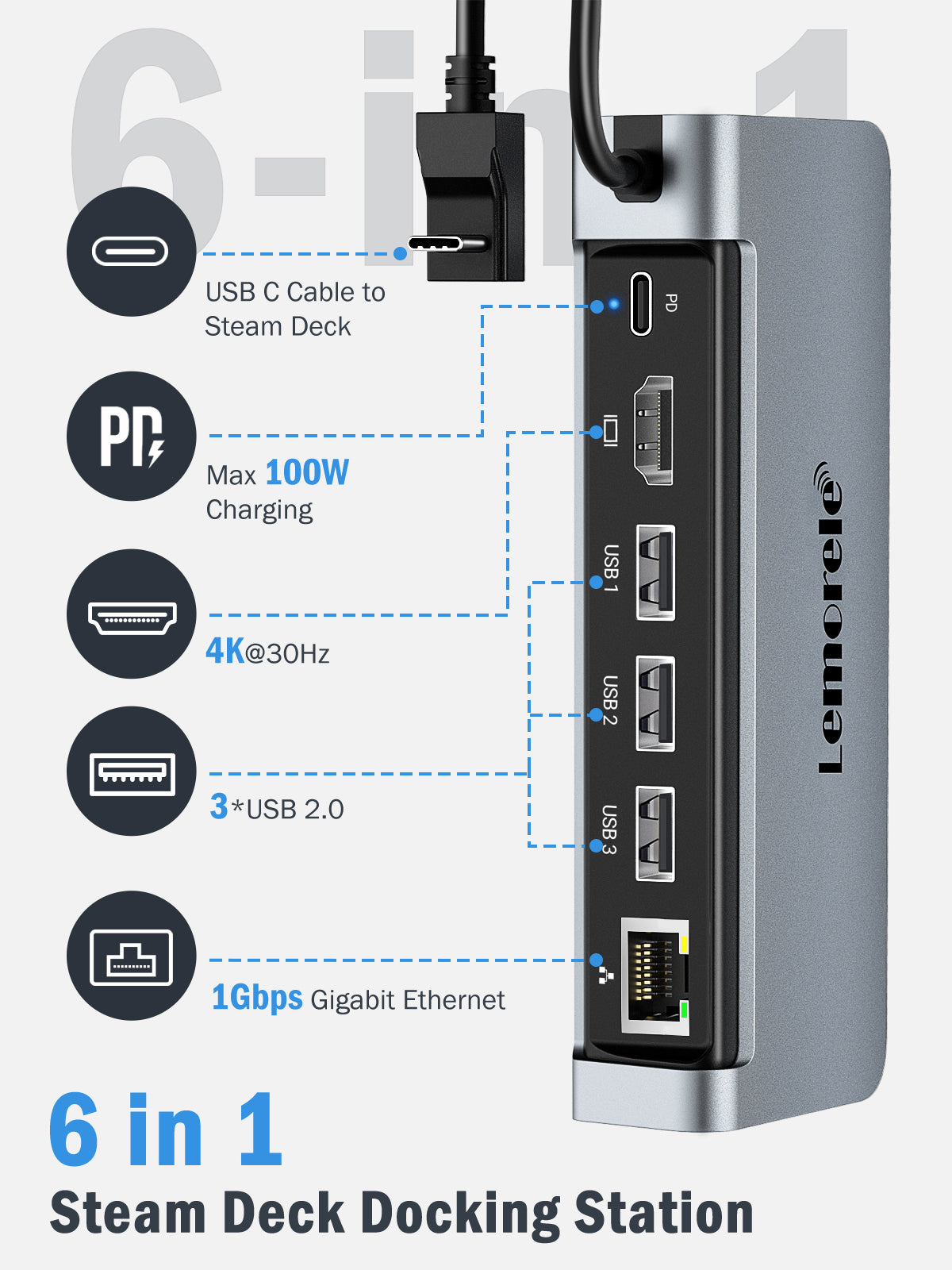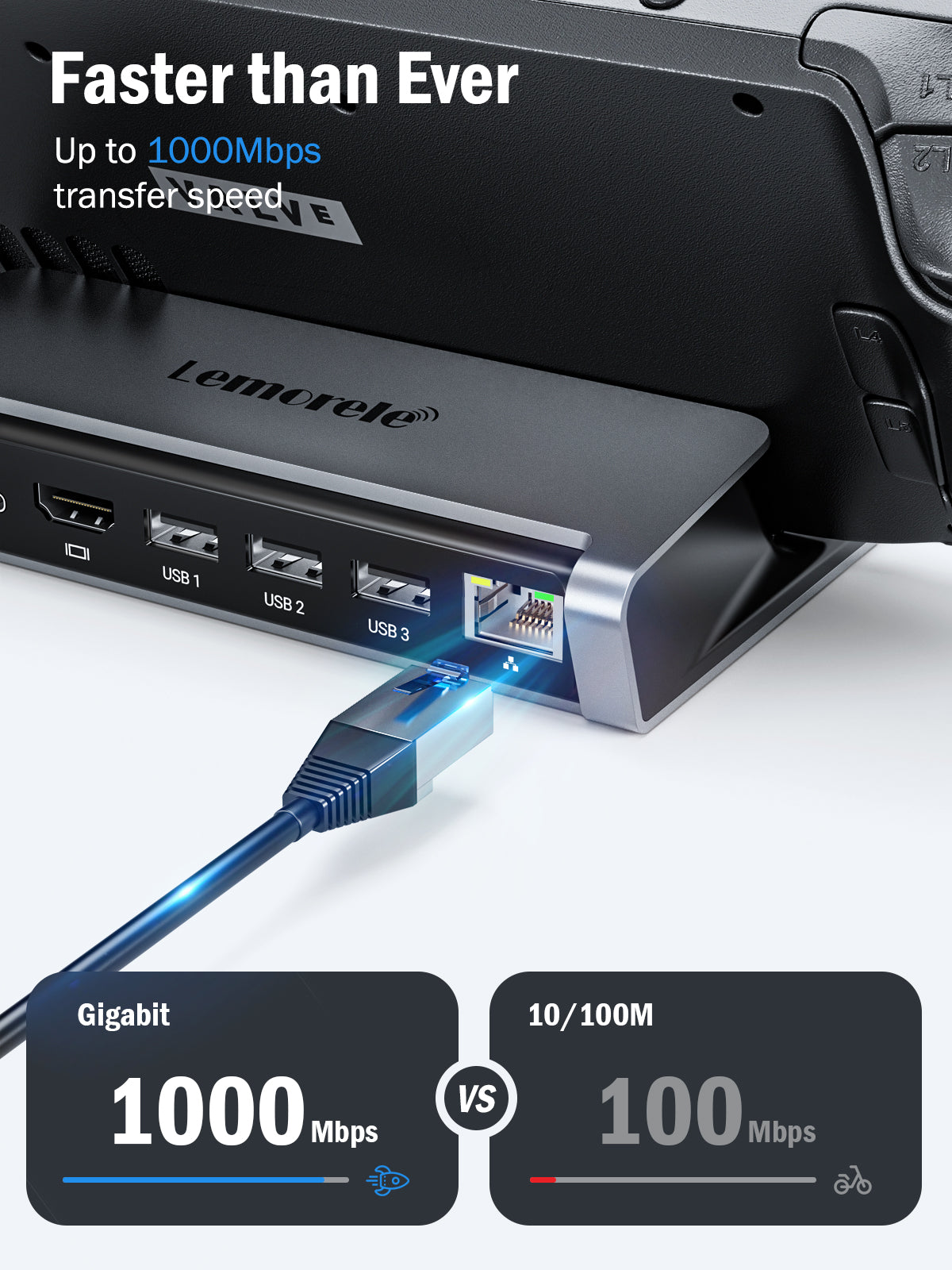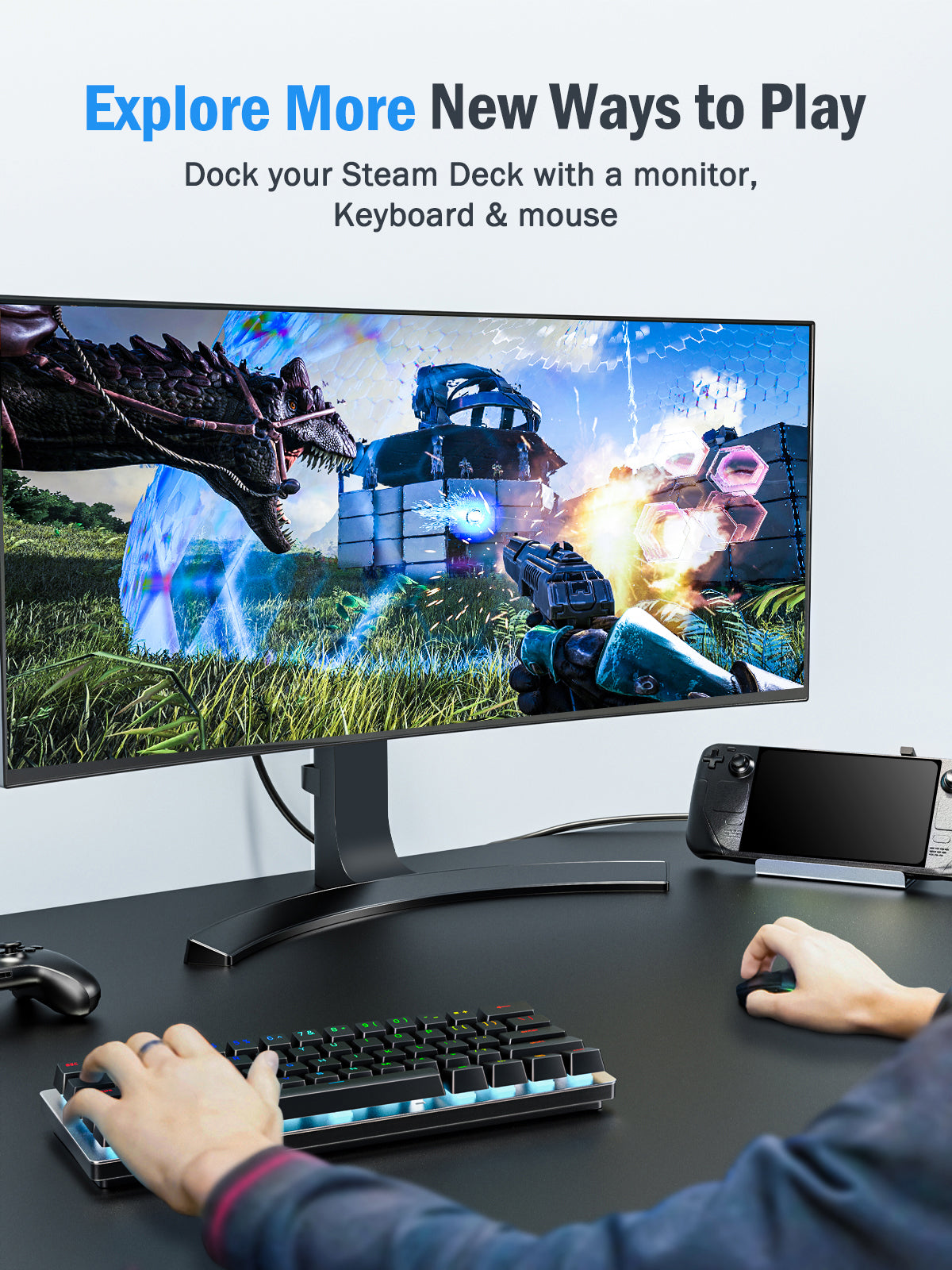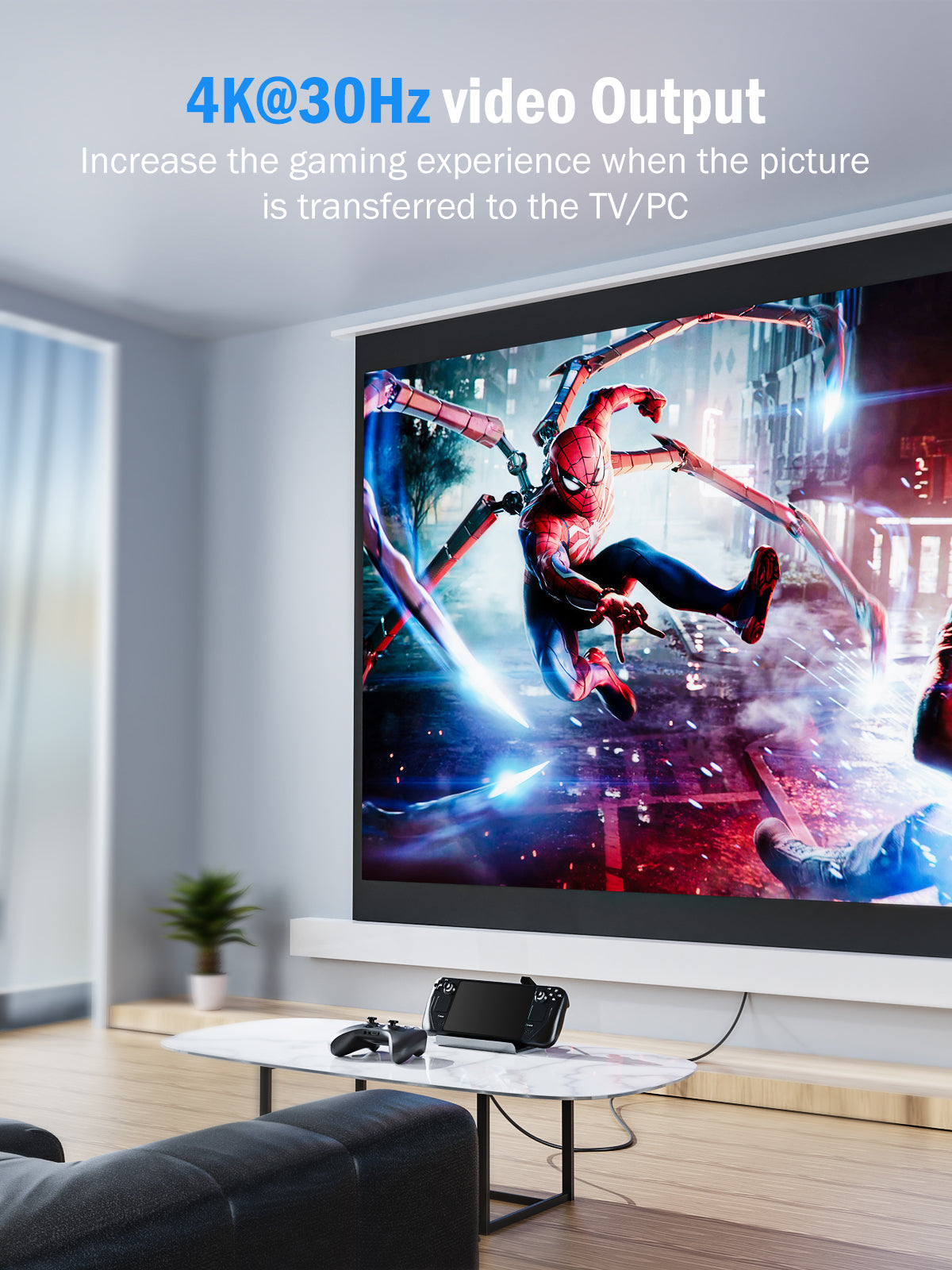 Lemorele Docking Station for Steam Deck Charger 6 in 1[X23]

Essential Dock Hub for Steam Deck
Lemorele Docking Station is designed for Valve Steam Deck, equipped with a HDMI 1.4 4K@30Hz output for large screen, 1000Mbps Gigabit Ethernet for no lag, 100W Type-C PD fast charging port for no power off, 3 USB 2.0 ports for multiplayer game, which is the essential companion for your Steam Deck.
No gamer can resist the temptation of 4K
4K HD Projection Screen, 3D Visual Effect, Enjoy the Visual Feast of Ultra-high Definition
6-in-1 Steam Deck hub is equipped with 4K HDMI 1.4 output, which can project game page from your Steam deck to a TV or monitor, provides you a clearer and smoother visual experience, let you can enjoy the visual feast on your games.
Three USB 2.0 Interfaces for Unlimited Fun

Steam Deck usb hub is equipped with 3 USB 2.0 Ports, plug and play, no driver required, can be connected to a variety of USB devices at the same time, fast transmission, no stuck.

1000Mbps Gigabit Ethernet

6-in-1 Steam Deck docking is equipped with a 1000Mbps Gigabit ethernet port to access a stable wired internet connection of up to 1 Gbps. You will get a much faster and more stable network environment than WiFi connection and enjoy super-fast and high-quality downloading on your Steam Deck. Play games without lagging.

Fast Charging Speed for Steam Deck

Stream Deck usb hub is equipped with a 100W Charging USB-C Port, which is sufficient to charge your Steam Deck at full speed when paired with the original charger. Play games without losing power. [Note: the MAX charging speed of Steam Deck is 45W]

5000 Bend Lifespan

High quality cable,support 5000 bend lifespan.

The docking station is designed for Steam Deck, but it is also compatible with iPads and Android phones with USB-C ports.

Advanced Chip

Designed with advanced chip, plug and play, no driver required, no lag.

Not Only A Hub But Also A Stand

6-in-1 Steam Deck hub blends Hub and stand together perfectly. Save money and keep your desktop clean and tidy.

This is a great value for a functional and versatile USB-C docking station, it does feel solid.
The Steam Deck Charging Adapter and Steam Deck Charger Stand are charging accessories designed specifically for the Steam Deck gaming device. The Steam Deck Charging Adapter allows you to charge your device when it's not in use, and can also be used as a data cable to transfer files to your computer. The Steam Deck Charger Stand is a charging dock that can charge both your Steam Deck and other devices, keeping your desk tidy. Both accessories are made of high-quality materials and exquisite craftsmanship, ensuring stable and safe charging.

This product has no reviews yet.