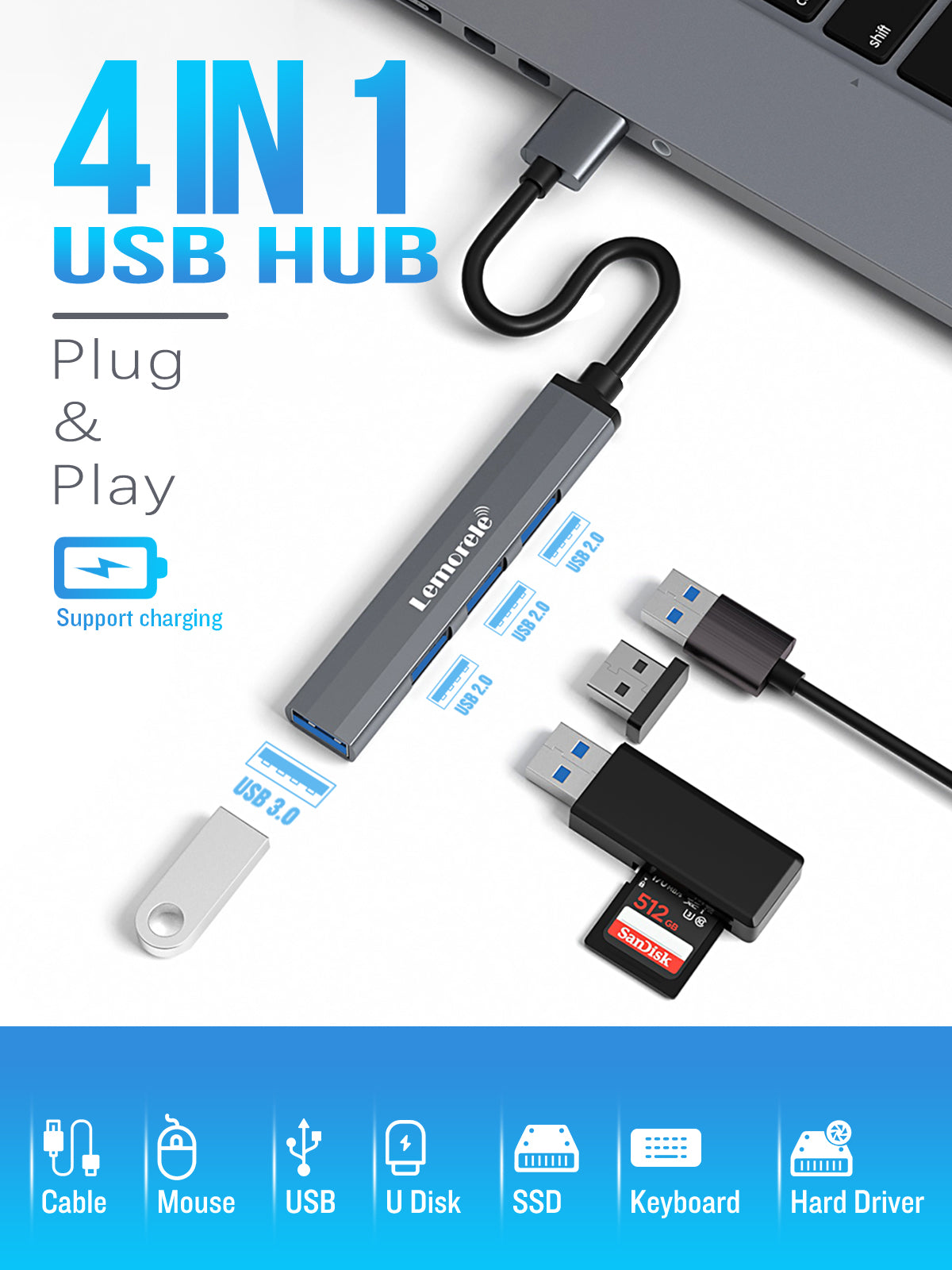 Lemorele 4-Port USB Hub【#TC53】
Lemorele USB c Hub with 1 USB 3.0 & 3 USB 2.0 Ports
1 USB 3.0 & 3 USB 2.0 Ports: The transmission speed of 3.0 is 5.0Gbps, the speed of 2.0 is 480Mbps.
OTG Function Support: Easily realize data transfer between devices without a Host.
Plug and Play: No driver/software needed.
Built-in industrial-grade chipset: Highly stable, no interference with WIFI signal.
High-quality Material
Aluminum Alloy Shell: Sky Blue Mac-style, feels silky to the touch, perfect for your MacBook Pro/Air, iPad Pro.
Cable: Length 0.3ft, pretty flexible and tear-resistant, protects the inner coil, super anti-interference.
Note: Our usb hub 4 USB A ports all only support 5V/1.5A, it can not fast charge your phones or tablets.
Lightweight and Portable

Weight 1oz, compact enough to take on the go. The cable length of 0.3ft makes the adapter have sufficient connection length while being convenient to carry.

4 Ports Fully Loaded

Say goodbye to repeated plugging and unplugging

Hub usb 3.0 has four ports, one port 3.0 and three 2.0 ports can be used at the same time, the transmission speed of 3.0 is 5.0Gbps, the speed of 2.0 is 480Mbps.

Can be connected to keyboard, mouse, U disk and other USB devices at the same time.

Metal Meterial

Adopts aluminum alloy material, dual anodic oxidation process. Providing safer, more durable, efficient and offers a quicker heat dissipation to protect your devices.
This product has no reviews yet.